You have probably googled for Delta discount codes and found the search results to be sub-par. Delta doesn't really have generic discount codes, per se. Discounts on Delta tickets come in a few forms:
eCredits – you get these from Delta when you have customer service issues such as a delayed flight or a malfunctioning in-flight entertainment system, or when you need to cancel a ticket
Meeting event code – these are group discounts negotiated by organizations for conferences and conventions. These discounts range from 2 – 10% and can be used multiple times
Delta discount certificates – we have seen these given out by at Delta sponsored events. The certificates can be used once and usually for up to 2 passengers.
Out of the 3 forms, meeting event codes are the easiest to find.
Google is your friend:

Use the keywords "delta meeting event code 2014" in the search box above, Google will result over 1.6 million pages of conferences with these keywords. Going to the 3rd search result on the first page, we see there is a conference in Las Vegas from February 4th – 6th.
Meeting event codes are usually domestic and big cities. So if you are going to somewhere international or a small city, it probably would be a waste of time hunting them down. Meeting event codes are usually good from 3 days before the start of the conference to 3 days after the end of the conference. In this case, it is good from February 1st – 10th. To filter down the results, you can add additional keywords like adding a city and month to the keyword like "delta meeting event code las vegas february 2014."
To use the code at Delta.com, if you select the "More options" link, you will have the Meeting Event Code box to apply the discount.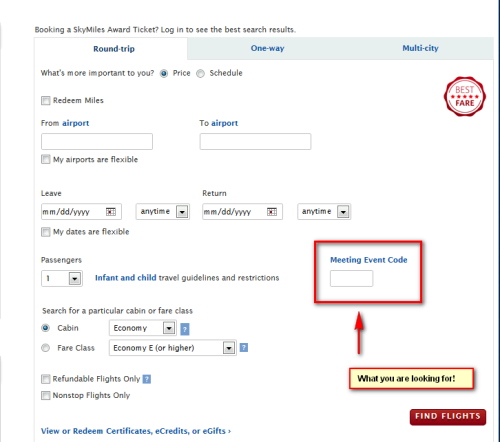 Here is a screenshot of pricing without any codes:
Here it is with a Meeting Event Code:
There you have it. It is just a matter of finding a conference page, figuring out when and where the conference is and see if they align with your travel plans. If they do, it might save you a few bucks.  Happy hunting (or Googling)!
===
For the latest deals, follow us on Twitter, like us on Facebook, or follow us with RSS or via daily email Newsletter. To leave us feedback, hit us up on Twitter or Facebook.